NeuRizer is pleased to announce that a significant milestone in the approval process for Stage 2 of the NeuRizer Urea Project ("NRUP") has been achieved. The State Planning Commission (the Commission) has publicly released the final Assessment Requirements on the PlanSA portal for the Urea Production Plant (UPP) to enable the preparation of an Environmental Impact Statement (EIS).
The UPP, Stage 2 of the NRUP, will have an initial nominal production capacity of 1 million tonnes of Urea fertiliser per year, although this can be expanded with a second train.
Following the 29th of September 2022 announcement that the NeuRizer Urea Production Plant Project had been declared an Impact Assessed Development by the South Australian Government, the Neurizer team, NRZ's Environmental Consultant (EMM Consulting Pty Ltd), the Commission and Planning and Land Use Services (PLUS) have completed a considerable amount of work to achieve the present milestone.
Under the Planning Development and Infrastructure Act 2016 (PDI Act) the South Australian Minister for Planning has the authority to declare projects that are recognised as being of significant economic, social or environmental importance to South Australia as Impact Assessed Development (not being restricted development). The UPP impact assessed development will be subject to an Environmental Impact Statement (EIS) study under the PDI Act.
Impact assessed applications are assessed through a rigorous process that differs from other development applications that are managed through local Councils. The Impact Assessed Development pathway provides requirements for assessment, issued by the State Planning Commission, and details the level of assessment required by NeuRizer in developing the project EIS.
The NRUP is in a group of only sixteen other projects of State significance listed on the PlanSA website with Impact Assessed Development status. The issue of the Assessment Requirements opens the assessment pathway for NRZ.. Following this milestone, the NRZ team will finalise the EIS for submission. The Stage 2 NRUP EIS, together with technical assessments and supporting documentation are expected to be lodged in late 2023. This is the current focus of the NRZ team and the next major assessment milestone. The assessment requirements are available at the link below. NRZ consider there are no exceptional requirements attached.
PlanSA Website – Current Impact Assessed Developments
The flowchart below summarises the approval process under the PDI Act and indicates current status.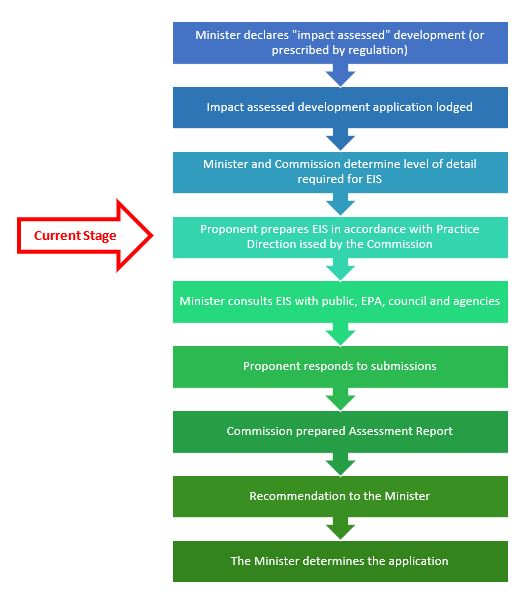 "This announcement marks another important milestone for the NRUP project," said Philip Staveley, Managing Director. "Sanctioning of the milestone is the next step in the assessment process for the project's first production".