While the footy season of 2020 has been an unpredicted and turbulent one, there have been some very talented stars emerging from what could have been a non-existence footy season.
One of those up and coming stars is part of the Leigh Creek Energy (LCK) family. Our Site Manager, Peter Case's daughter Kate Case is one to watch out for.
Kate started her footy path in 2018 and has reached amazing achievements in such a short amount of time.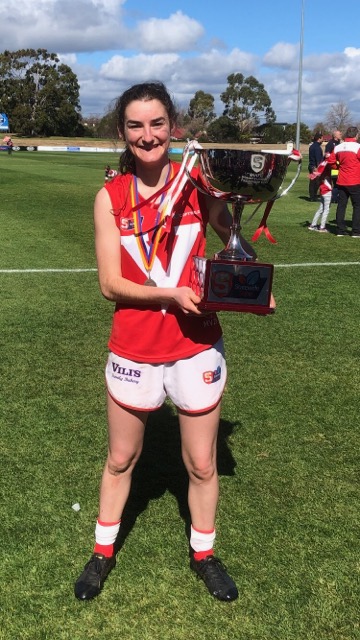 During her first season of footy in 2018 playing for Crystal Brook Kate won best and fairest. This started the long list of achievements to come her way. Trialling out for the U16's she was accepted into the state team and won bronze which then placed her in the U16's talent shield for North Adelaide. Kate was invited and given the chance to represent Australia with the Wanders to play International Hybrid Rules footy in Ireland, England and France in 2019. Shortly after this trip it was back to her home team Crystal Brook and again won best and fairest for the juniors and runner up for the seniors.
This paved the way for a fantastic year ahead and was selected to play in the U17's talent shield for the North Adelaide Football Club and to represent the mid north district in the Women's Country Championship held in Port Pirie. Kate was selected to play for North Adelaide in the SANFLW which she played every game and helped the team to take out the tropey in the grand final.
Kate was selected in the 2020 U18's state team however due to Covid-19 like a lot of sports it put a hold on Kates footy career. Nevertheless, this did not stop Kate from getting noticed and in round 7 she received a nomination for the Powerade breakthrough player proving that with determination and passion anything is achievable.
Selected to play in the NAB AFLW all-star's game in Adelaide proved Kate has what it takes to become a professional football player.
Since 2019 Kate has travelled to Adelaide 3 times a week to train and play football, clocking up a whopping 2,100kms a week to contribute to her footy career, one that she is passionate about. To top all of this Kate balances her year 12 studies which we all know for 2020 has not been easy for the students.
Kate is an inspiration to all the young girls out there, showing them what dreams are made of and what you can achieve through hard work, passion and a love for the game. At LCK we are proud of Kate and through her dad Peter we have all been following this mature and inspirational rising star. Well done Kate and we look forward to what 2021 will bring you.
Photos: Kate case with her dad and Site Manager Peter Case